John Lloyd
John Lloyd is a legend of British comedy, having produced Blackadder, Not The Nine O'Clock News, Spitting Image and, latterly, QI, which is now broadcast on Friday evenings on BBC1 erudite under the chairmanship of Stephen Fry.

For anybody to have produced one of these irconic shows would have been a wonderful achievement, but to have been behind all them is quite astonishing. The have now all achieved iconic status and many believe that this golden age of comedy will never bettered - and much of it was down the vision of one man.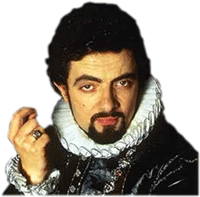 After leaving Cambridge, John says he spent 15 years working like a maniac. He started The News Quiz, Quote... Unquote, The News Huddlines and To The Manor Born and played a key role in The Hitchhiker's Guide To The Galaxy, Blackadder and Mr Bean, shooting TV commercials in his spare time. For most of the 1980s he adds that he went without lunch and slept for four hours a night. Inevitably, he won a vast number of prizes and says he became very, very tired.

On Christmas Eve 1993, John claims he came to the sudden and alarming realisation that he didn't really know anything. Changing gear again, he started reading books for the first time since he was 17. To his horror, he discovered that he hadn't been paying attention and, with painful slowness, unearthed the closely guarded secret that the universe is astoundingly quite interesting. The result was the QI series of programmes which has won millions of fans.

Many years ago, in his gap year, John (who now lives in West Hendred, Oxfordshire) was a bag-sellotaper in a flour mill. Every evening, after work, he found he was able to produce two tiny homemade scones from his nostrils. This led him to become a fire-extinguisher salesman: a career abruptly truncated when he set fire to a camera shop in Harlow. Moving swiftly on to freelance bath-enamelling, on his first assignment he was unable to get the enamel to dry and fled without payment. To this day, he is haunted by recurring nightmares that the old lady whose bath it was may still be glued to it. He says he is much happier as a television producer - a job where 98% of the work is done by someone else who knows what they're doing.

John Mitchinson
Director of Research for QI
Managing Director of Quite Interesting Limted

John started off in publishing and became the marketing manager at Waterstone's. He says he is a man who likes to read, eat and drink, and who now gets paid to do all three simultaneously. John, who lives in Great Tew, started his professional life mixing bath-resurfacing chemicals in a small shed. Since then he says that he has mostly tried to avoid work which involves manual dexterity and poisonous chemicals. His refusal to do anything for very long has left him with several children, a lot of books, one chin too many and a brain his wife refers to as 'the skip'. But he makes good sourdough bread, plants by moonlight, and is one of the few people who knows how to cook a pig's spleen properly.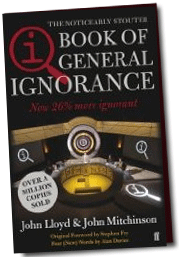 Along with John Lloyd, he is co-author of The Book of General Ignorance and other QI books. They are often referred to as the Two Johns and they carry out much of the research for the show. As a result of experience marketting books, John M is also in charge of the QI website's online bookshop.

Advanced bookings are available through Andrew Warner on 01993 810937 or 07966 286487, or alternatively click here to contact us. The village hallís capacity is 90-100 - so book early to avoid disappointment.