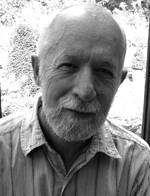 BEN VILJOEN


Date: October 3rd
After retiring from Thames Water, where he was head of computing services, Ben indulged a life-long interest in landscape gardening and took a diploma course at the School of Plant Sciences at the University of Reading. There, he met Richard Bisgrove, one of the leading authorities on Gertrude Jekyll, who further intensified his interest in the history of landscape gardening.

Ben is a member of the Garden History Society and is vice-chairman of the new Berkshire Gardens Trust (the last English county to set one up). Like its Oxfordshire equivalent, it promotes the appreciation, enjoyment and preservation of the county's garden heritage.

Ben was born in South Africa and spent most of his childhood in the former Southern Rhodesia. He attended the University of Salisbury (now Harare) during the turbulent years leading to the declaration of independence by the minority white government. After graduating, he worked for the newly-independent government of Zambia before coming to UK.